About Vincent Gardens Nursery
Vincent Gardens is a Certified Nursery located in Douglas, Georgia. Owner operator, Donna Vincent prides herself on providing quality plants for residential and commercial use and strives to be knowledgeable and stock the plants that will encourage wildlife to visit garden habitats.
Donna has a world of information & expertise with a wide variety of plants and loves to talk about all things gardening. Vincent Gardens specializes in providing native plants that will attract hummingbirds and butterflies. The nursery is also stocked with drought tolerant perennials, woody ornamental shrubs, native plants and trees. All perennials and shrubs are grown under natural conditions, using high quality potting media, and slow release fertilizer.
Nursery stock is competitively priced and ready to transplant directly into your garden. Vincent Gardens is certified by the Georgia Department of Agriculture Live Plant Division. A mail order nursery only, not open to the public, available for public sales by appointment only. Catch Donna's passion and Beautify your World With Wildlife In Mind!
Beautifying Our World
with Wildlife in Mind
Help attract beneficial bees and butterflies by planting Butterfly host plants
---
Make your garden more hospitable to bees and butterflies
Reduce the use of pesticides

Plant nectar-rich food that blooms through the summer

Provide a shallow water source and a flat rock

Leave a small patch of bare ground for bees to establish underground nests

Plant Butterfly host plants

Add plants from your planting zone that attract butterflies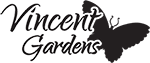 Bees are most attracted to white, yellow, blue, pink and purple flowers. Try planting:
wild lilac, western and eastern redbud. Not forgetting flowering quince, cranesbill, lavender, catmint, rhododendron, rose and salvia.
Butterflies need a food source all summer long, so try:
yarrow, hyssop, anemone, aster, bluebeard, tickseed, foxglove, coneflower, potentilla, bee balm, Russian sage, blackeyed Susan. Not forgetting pincushion flower, stonecrop, spirea, verbena, milkweed and butterfly bushes.
Vincent Gardens only supply Butterfly host plants for the following US states:
Alabama, Arkansas, Colorado, Connecticut, Delaware, Florida, Georgia, Illinois, Indiana, Iowa, Kansas, Kentucky, Louisiana, Maine, Maryland, Massachusetts, Michigan, Minnesota, Mississippi, Missouri, Nebraska, New Hampshire, New Jersey, New York, North Carolina, North Dakota, Ohio, Oklahoma, Pennsylvania, Rhode Island, South Carolina, South Dakota, Tennessee, Texas, Vermont, Virginia, West Virginia and Wisconsin.
WE DO NOT SHIP to the following states due to agriculture restriction & quarantine rules.
California, Arizona, Utah, New Mexico, Washington, Oregon, Montana, Idaho, Nevada, Wyoming, Alaska, Hawaii